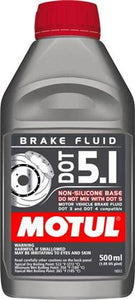 Motul DOT 5.1 Brake Fluid (500ml)
MOTUL DOT 5.1 is non-silicone based, long life and 100% synthetic, DOT 5.1 Brake Fluid conforms to the highest standards in brake fluid performance. DOT 5.1 is specially designed for Anti-Locking Brake Systems (ABS). With a high dry boiling point of 270°C and a high wet boiling point of 185°C, DOT 5.1 delivers the best brake performance.
LONG LIFE FORMULA: the high wet boiling point (185°C/365°F), superior to DOT 4 and DOT 3 fluids enables to use this product longer.
SPECIALLY DESIGNED FOR ANTI-LOCKING BRAKE SYSTEM (ABS): its viscosity (820 centipoises at -40°c / -40°F) lower than DOT 4 and DOT 3 brake fluids, allows MOTUL BRAKE FLUID DOT 5.1 an easier fluid circulation in micro-valves of anti-locking systems.